Only the best Tours in Cancun, Cozumel and Riviera Maya
Cancun Adventure Tours has been in business for more than 10 years, and we keep improving every day in order to provide the best Excursions and Tours, including Costumer Service, Professionalism, Price, reliability.
Cancun Adventure Tours offer you a wide selection of Tours and Activities In Cancun and Riviera Maya, we also offer the best deals and the Lowest Prices, booking your Tours with us, will give you the opportunity to arrange the Best Cancun Adventure Tours, Private Tours, Mayan Ruins Tours, Water Sports, Deep Sea Fishing Trips, Luxury Yachts for Rent, Discover Scuba Diving, Snorkel Tours, Zip Lines Tours, ATV Tours, Whale Shark Tours and more!! booking them with us online – guaranteed low prices and the best selection.
Park and Ruins Packages
Live the most incredible adventure Parks, and explore the some of the Impressive Archeological Mayan Cities of the Mayan Empire, with our Tour Packages, you will have the chance to choose and custom your packages between Xel-Há; Learn about the history and traditions of Mexico in Xcaret, or if you wish to become an expeditionary, admire the pyramids of the Mayan culture with Tours to Chichén Itzá, Coba, Ek'Balam, in fun and unforgettable tours, where you can even delight your palate with the cuisine of the Peninsula. In addition, when you visit the Riviera Maya and Playa del Carmen you can cool off in a Mayan oasis with the Tour Xenotes, and fly over the forest in the zip lines in Xplor, where a night adventure awaits you in the underground rivers of Xplor Fuego, or the Magic Mexican Nights of Xoximilco. Read more
Swin with the Dolphins
The Dolphin Swim Adventure Isla Mujeres is and Interactive program with these amazing creatures, where you will be able to perform activities like Belly Ride, Boogie push, Hug, Hand target, Handshake, Kiss, Free time, among some other tricks and games . Then you will be taken by taxi to a beach club where you will spend a day of a lifetime with the most spectacular views of Cancun at the Garrafon Park that included lockers, showers, infinity swimming pool, lounge chairs, where you can enjoy an all you drink open bar, and the delicious buffets and snacks. Come for an experience of a Lifetime! Read more
Custom Private Tours
Ease of Transportation: Our private tours in Cancun Adventure Tours are all run by qualified tourist guides/drivers who drive you from your base to each location. Our local knowledge of traffic hotspots, shortcuts and parking lots ensures you spend the absolute minimum time travelling and use your holiday time to your best advantage. Renting a car and driving alongside impatient drivers on unfamiliar roads is simply a stress and expense you can do without. In addition to getting you from A-B, our driver guides point out places of interest along the way and spend time getting to know you and discussing all aspects of Cancun Riviera Maya, and Yucatan Peninsula. Read more
Adventure Tours
Xplor Park Tour is a place full of adventure where you will Fly on a 13 Zip line Circuit over the lash vegetation, drive an amphibious vehicle through the jungle and through the caves. This is the place where the jungle comes to life, and this is what makes Xplor the best adventure park in the heart of the Riviera Maya. Read more
Learn to Dive Today
The Discover Scuba Diving Course is one of the most unbelievable activities that you can enjoy during your next vacation in Cancun. The Underwater World, that is surrounded by hundreds of colorful fish, at the second largest reef of the world. Come enjoy this amazing Scuba program specifically designed for people who have never been underwater with Scuba Equipment. Read more
Fishing and Yacht Charters
Come to enjoy a great Deep Sea Fishing Day in Cancun that is one of the most amazing places in the world for this activity.
Our 31ft and 35ft boats equipped with GPS, fish finder, fishing seats with seat belts, and the experience Captains and Mates, will give the best opportunity that you been waiting to make the Catch of the Day, Blue Marlin, White Marlin, Sail Fish, Grouper, Wahoo, Amberjack, Dolphin Fish, Barracuda, Kingfish, Blackfin Tuna, Red Snapper, Bonito, among some other great fish. Read more
Cancun Airport Transfers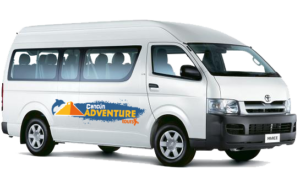 Cancun Adventure Tours is a reliable and secure transportation company providing transportation to individuals, families and groups. All shuttles, vans and buses are air conditioned, licensed and insured. All drivers are bilingual and professional. We Offer Transportation from Airport to The Hotels in Cancun Hotel Zone, Downtown, Puerto Morelos, Playa Mujeres, Playa del Carmen, and Riviera Maya. Read more